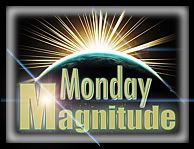 Most of us are reading and/or beginning the study of end-time prophecies, whether from a biblical perspective, Nostradamus, or other writings.
Perry Stone's Manna-Fest Program ( www.voe.org ) this week spoke about presidential election years. The feelings of confusion that seem to manifest as the election date draws near increases and then began to demonstrate historical lineage. Well, it's good to get understanding in all things, and listened with great interest. But my outcome is not one of concern because I know that with the right attitude and focus on Jesus, today is another Monday Magnitude!
So today, I chose to take the advice of the Lord when he said, consider your ways.
Today I chose to carefully consider my ways so that my future will be bright and with all good things. I will carefully consider my ways knowing that He directs my path into the ways of righteousness that brings me blessings.
Today I choose to expand or to make the magnitude of my thoughts towards good choices part of today and each day into a purposeful and deliberate future.
Haggai 1:5
Now therefore thus saith the LORD of hosts; Consider your ways.
Make your day and week count for the Lord—Make it a great Magnitude—Make a pandemic of love and joy in the Lord!