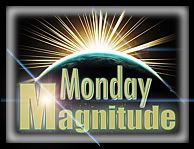 "But have renounced the hidden things of dishonesty, not walking in craftiness, nor handling the word of God deceitfully; but by manifestation of the truth commending ourselves to every man's conscience in the sigh of God." 2 Corinthians 4:2
In these days of uncertainty and often confusing information in the elections, international and local politics, as well as in the places where we choose to worship--there is only one thing that is certain to calm the sea--Truth.

Only the truth that we know can set us free; the whole truth, not a part but all of it. The more truth we obtain, used with wisdom through knowledge and understanding, the better and calmer our life becomes. No longer do we drift on the sea of hear-say but stand on the solid rock of truth.



This week I choose the Magnitude of Sight Consciousness--both spiritually and physically.



I choose not to listen to gossip, but investigate and find the truth in what is brought before my sight and hearing. What we see stays with us as a mental picture, be it words or graphics.

Let us be sight conscious this week; being positive and offensive for the truth.